The town of Warwick was founded on the banks of the River Avon in 914 AD by Ethelfleda, sister of Edward the Elder, as a defence against the Danish invaders, on a site overlooking earlier riverside settlements. It is built on a small hill which controlled not only the river valley but also the river crossing on the road to London and the roads to Stratford, Coventry and the salt way to Droitwich. The Anglo-Saxon town was surrounded partly by a wall and partly by a ditch.
The medieval core of the town was prevented from expansion by the open spaces that surround it: the Common and Racecourse, the grounds of the Priory, St Nicholas Meadow, the River Avon, and later, Warwick Castle. Within a relatively small area there are many buildings of historic interest, of which the Castle is the most important.
This is one of the most dramatic and complete medieval castles in the country. It has been inhabited continuously since the Middle Ages, and was the home of the Earls of Warwick until recently.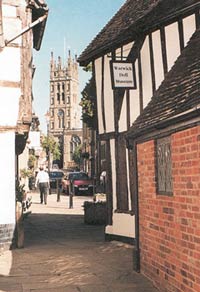 Many of the central streets of the town were destroyed by the Great Fire of 1694. The buildings which were burnt, and many which were not, were re-built in the handsome style of the late 17th and early 18th centuries. St Mary's Church, which dominates the surrounding countryside, had a new nave and tower at the same time.
Several important medieval buildings survived the fire and can be seen to this day, notably the town's medieval Guildhall, now the Lord Leycester Hospital, as well as a group of timber - framed buildings around Oken's House.
Warwick and its historic buildings have featured in the BBC TV's drama series 'Dangerfield', 'Pride and Prejudice', 'Tom Jones' and Granada Television's 'Moll Flanders'.